I had the pleasure of seeing this designer's work at the Architectural Digest Home Design Show in NYC and thought this bench was spectacular.
Designed by artist Nico Yektai, this contemporary custom outdoor bench is Sapele and Cast Concrete measuring 30″H x 117″W x 24″D. The bench will be on display this summer at the LongHouse Reserve in East Hampton New York in a fantastic location by the pond. The LongHouse is the home and 17 acre garden of Jack Lenor Larsen.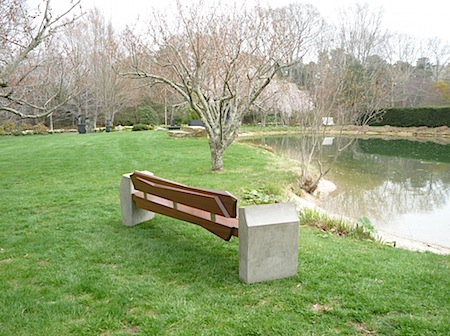 Nico Yektai has been making unique wood furniture since 1995 and maintains a studio in Sag Harbor, New York (the home of our second Kitchen Designs showroom – coming Summer 2011), in the Hamptons.
His modern pieces of furniture are sculpture and have been on view in numerous art galleries and museums such as Guild Hall Museum in East Hampton, New York and the Parrish Art Museum in Southampton, New York.
Shown here, Outdoor bench #4, is a modern bench made of Sapele wood, concrete, and stainless steel.  The fabricated brackets allowed the designer to suspend the back in a way that allowed the floating back to be anchored visually.
He brought the cast concrete legs up to serve as a visual aesthetic and as well as an arm rest.  The composition is simply exquisite.
Visit his website and see some of the most adventurous pieces in contemporary solid wood furniture design.
Nico Yektai's Sag Harbor studio: (631) 458-4090.